Environmental Manager Rachael Buckner explores three key approaches from the UK team that show how small actions can drive environmental change strategies.
I have been passionate about sustainability for as long as I can remember. This passion drove me to study Environmental Protection and Management at University and would eventually lead me to Hitachi Rail.
With my knowledge and experience on the subject developing alongside the increased importance of the issue for society as a whole – it's an important time to be an Environmental Manager.
Objective setting and policies drive my team's approach to the environment - they help us to map out every aspect of our company activities that could have an adverse impact on the environment. They give us a clear framework and the infrastructure needed to analyse our operations and identify opportunities to see where we can be better.
We then provide short, medium and long-term solutions to the business, and being part of the solution is what I love!
The importance of collaboration
Collaboration is part of my every day.
Internally - when we work with Hitachi at a corporate level, helping them to drive progress towards their ambitious commitments to climate change. This includes the ambition to become carbon neutral across all our business sites by fiscal 2030.
Externally – when working with recognised partners. Most recently, we have become a corporate partner of the Institute of Environmental Management and Assessment and will be working with them to learn and understand where we can improve our environmental performance – with the aim for our company to become a leader in the field.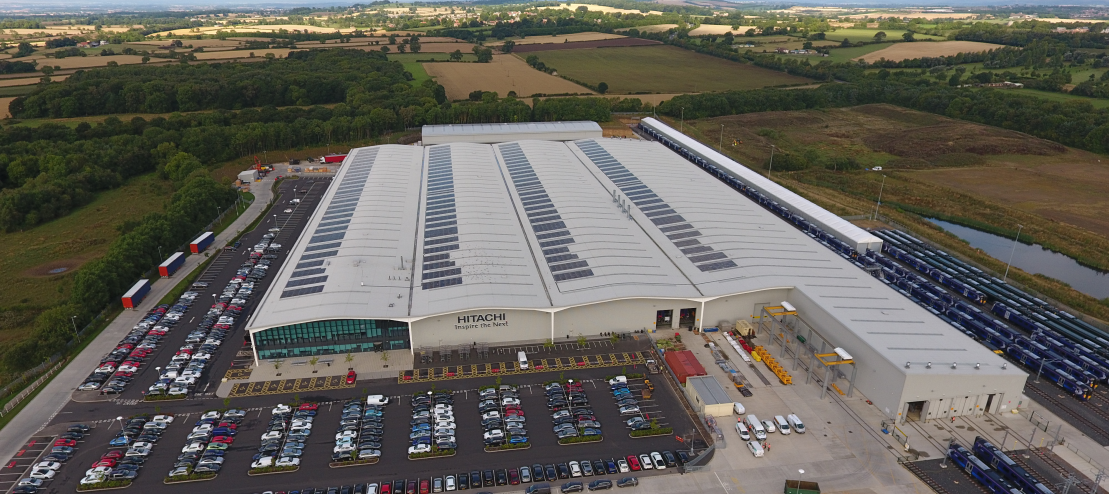 Actions to be proud of
We have started work on making our manufacturing facility and depots carbon neutral. This work varies from changing how we power the facility by installing solar panels, setting up electric vehicle charging points or switching to energy efficient LED-lighting. These changes can be simple and effective. For instance, just changing the lighting at Ashford depot cut energy usage for lighting by 60%!
At our Newton Aycliffe manufacturing facility, we are currently going through a programme to replace 1,775 light fittings with LED lighting. This will reduce the wattage of each light fitting by 60W and we are now exploring how we can roll this out across our UK locations.
At some sites we are also looking to improve biodiversity. We've created the equivalent of a mini nature reserve for small animals, flora and fauna to thrive around our depots. This approach is at the heart of how we're engaging local communities on climate and these small changes matter - they help drive visible change throughout our company.
Using our people to be part of the change
I want everyone to share my passion for the environment and climate change.
Helping everyone within Hitachi Rail understand that they have a role in meeting our sustainability targets is a key focus. More importantly, we need to empower colleagues to know how they can contribute. How every little action counts and contributes to a much greater effort. Doing this from the boardroom to shop floor is how we will enact real change and work towards a more sustainable business.
But how do we do that?
For me, education and communication is key. This is why we have introduced new environmental awareness e-learning modules for all employees. We have also created an environmental newsletter so everyone is aware of the brilliant work that is taking place but also what other exciting projects are in the pipeline.
Together I am confident that Hitachi Rail will have a real positive impact on the environment. I am proud to be working for company that is a Principal Partner of COP26 and that Hitachi has never been more serious about tackling climate change and improving the environment.
I am excited to see how we all can be a part of that change.
About the author
Rachael Buckner
Environmental Manager - UK