More Seamless, More Sustainable...More Speed
Over the last couple of weeks I've been holding town hall meetings with our teams around the globe to celebrate and reflect on the last 12 months.
I'd like to thank our employees, suppliers and customers for their partnership through a challenging but exciting year.
I still can't quite believe all we have achieved - and the conditions under which we have delivered with and for our people and partners.
Despite the challenges of COVID - the safety of our people, supply chain issues, and even the endless Zoom meetings - we have continued to deliver for customers with safety front of mind. The successful deliveries for Lumo and ILSA are great examples of this spirit.
We've had a big year for commercial growth too - highlights for me includes new rolling stock for WMATA in the USA; HS2 in the UK and our ongoing partnership with Trenitalia in Italy as it expands to new markets in Spain and France.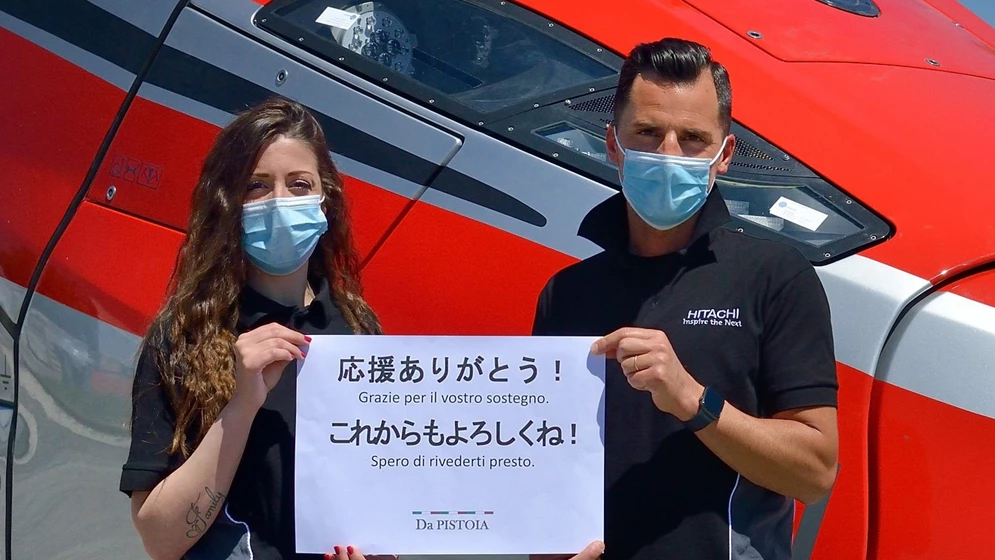 Our unique position, as part of the wider Hitachi Ltd. group, gives us a digital and sustainable edge, and chance to deliver more value for operators, cities and passengers as we become a climate change innovator.
So where next for Hitachi Rail?
Here's 22 ways that Hitachi Rail set the groundwork to offer more seamless, sustainable - and speedier - passenger journeys in 2022:
More Seamless
'Mobility as a Service' is a broad term, but what it really means for me is making the transportation systems of our cities more seamless, more connected and more efficient. Digital innovation is at the heart of creating the best outcomes for passengers and operators alike - we're excited to be making progress in this new field:
1. Thales GTS acquisition announcement. The Thales GTS business will open up new geographic and technical markets for Hitachi Rail, and create significant benefits for customers whether they are looking for specific best-in-class signalling technologies or more comprehensive turnkey projects.
2. Genoa AMT bus traffic management trial. Genoa is an important home for Hitachi Rail - and this pilot project with AMT is giving us the opportunity to explore how to use digital platforms to optimise the way that the bus and rail networks operate to provide better experiences for a better passenger experience.
3. Signalling successes. Our signalling business continues to deliver and serve customers around the world, but I'm particularly proud of the work done to enter the UK market with Network Rail; continue to deliver the Cross River Rail ETCS project in Brisbane; and continue to bring improved services to the Italian highspeed and regional networks. Our work with BART in San Francisco will help to increase capacity by 40%, helping to reduce road traffic and improve quality of life for the city's commuters.
4. Perpetuum Digital acquisition close. Perpetuum offer proven digital condition monitoring solutions that help operators anticipate faults before they happen. With the original offer focusing on axel health, we are growing the potential of the Perpetuum solution to cover a range of critical assets that will help the railway to run more safely - and more sustainably in the future.
5. SNCF Autonomous Freight project. Our leadership position in Autonomous metros is helping us to contribute to SNCF's pioneering autonomous freight project...a European first.
6. Last week we confirmed our role in delivering the World's Heaviest Robot - with our AutoHaul partners Rio Tinto. This freight train runs through the Australian outback moving iron ore from mine to port.
More Sustainable
Our decarbonisation strategy maps out the roles of modal shift, battery trains and decarbonising our own operations to achieve net zero - we had some significant announcements to make in the second half of the year on our progress.
Play Video
Hitachi Rail decarbonisation strategy
7. Pre-COP in Italy. September's Pre-COP event in Italy was an opportunity for Hitachi Rail to outline its contribution to Italian society and the decarbonisation agenda.
8. COP 26 in Glasgow, UK. As principle partners for Mobility, Hitachi Ltd. launched some exciting projects, including the Rainforest Alliance and an electric charging depot for First Group's fleet of buses in Glasgow. But I'm particularly proud of the role that Rail plays in the wider Mobility story, and the event was an opportunity for us to articulate our decarbonisation strategy to a wide audience.
9. Customers driving modal shift. One of the most exciting launches this year came from Lumo - a UK brand using our AT300 platform who are positioning themselves directly against the airline industry. From ticket pricing to the passenger experience and even its marketing, Lumo is already establishing itself as the low carbon mode of choice between London and Edinburgh. Our partners Trenitalia in Italy have already proved that this model can work - with affordable rail transport directly between city centres displacing national domestic flights.
Play Video
Manufacturing the new Lumo fleet
10. DENCHA battery train 5 year anniversary. The DENCHA trains in Japan operate daily on batteries over a distance of around 50km, and were the world's first to operate on an AC network. The batteries aim to overcome patchy electrification of the regional line, and have helped to reduce emissions by 2.7 million tonnes over the five year period.
11. Eversholt Battery agreement. Back in December we announced our MoU with Eversholt. At COP we updated on progress and next steps for our work together to bring battery trains to Britain and at scale in the South of England with operator GWR.
12. Angel Battery agreement. We were also pleased to expand our UK battery partnerships with a new MOU with Angel Trains to bring Battery technology to fleets in the North of England with operator TPE.
13. Florence Battery Tram. We are already trialling batteries on our tram fleet in Florence, Italy, which will help to reduce emissions in the World-Heritage listed city but also allow us to remove overhead wires and poles from the historic city centre.
Play Video
Hitachi Rail trials the first battery-tram in Florence
14. Masaccio Tests at Velim. The Masaccio platform will use batteries as part of its operations to overcome gaps in the electrified network and reduce emissions at stations. But it is also a powerhouse - the batteries have been tested at speed, delivering up to 160 kph on the test track at Velim.
15. Toyota Hydrogen Partnership. I believe Batteries are the best bet to decarbonise the railways, but longer term there is hope in hydrogen too. Our partnership with Toyota, who are experienced in using hydrogen fuel cells in the automotive industry, will help us to understand the most economic way to use hydrogen for train traction.
16. 30% reduction in CO2e. Hitachi Ltd. has committed to significant net zero targets, and we are taking that seriously at Hitachi Rail. I'm pleased that last year we reduced our emissions by 30% (building on a 14% reduction the year before). I am encouraged by this, but it will only get harder - I'd like to thank all our teams for not just considering quality and cost in our processes, but also carbon.
17. 100% renewable Partnership with ScottishPower in the UK. Our partnerships are also an important lever to help us reduce emissions. Our announcement to only purchase renewable energy in the UK is a good first step to lowering our overall carbon emissions.
More Speed
Whether we are increasing the convenience of a railway by reducing headway between trains, or reducing journey times through our involvement in some of the world's fastest train projects, there's no getting away from our involvement in some of the fastest and most exciting mobility technologies in the world.
Play Video
First look at HS2's state-of-the-art high speed trains
18. HS2. In December I was proud to announce that with our partners Alstom we will be designing, building and maintaining Europe's fastest high speed trains for the UK's HS2 project.
19. ETR1000. The acquisition of IP and maintenance contracts for Trenitalia's flagship High Speed Train from Alstom (formerly Bombardier) means that we now have a European high speed platform that is already growing its influence internationally beyond Italy...For example...
20. ...We are supporting Trenitalia with their international growth. The FrecciaRossa (using the ETR1000 platform) is now operating between Italy, France and Spain - with ambitions to enter Germany and Austria in the future.
21. Bullet Trains! In October 2021, N700S Shinkansen for JR Central won Good Design Award. As one of the manufacturers of the iconic bullet train, we are proud that the technology is going global. From Texas, USA, to Mumbai - Ahmedabad in India and even the transfer of know how to key technologies on the UK's future HS2 fleet - our role in the Shinkansen story continues to support Hitachi's global growth.
22. HyperloopTT. I'm cheating a little bit here. We announced Hyperloop in December last year and purists also wouldn't refer to Hyperloop as a train. Our role is to provide the autonomous signalling technology that will manage the flow of pods that will move at speeds equivalent to a passenger jet. With a number of projects from the US to France and the Middle East, HyperloopTT are pioneering efforts to make long distance mobility more seamless, sustainable and speedier than ever. And that has to be a good thing.