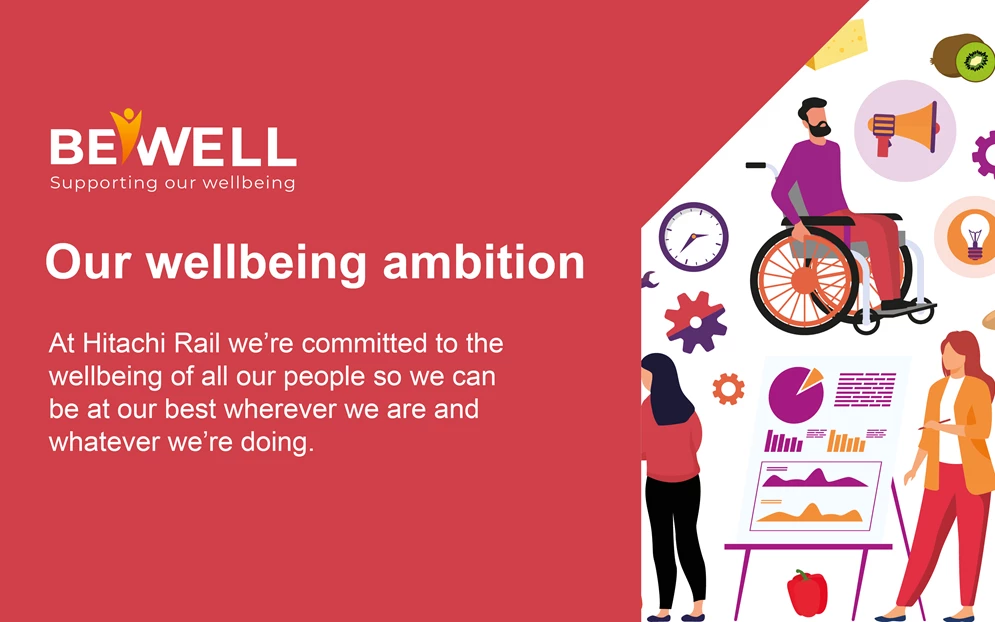 The Five Pillars of Wellbeing
Human wellbeing is influenced by a wide range of factors in both our personal and work life. At Hitachi Rail, we address this by offering an array of benefits to our people. Depending on location these can include:
Private medical insurance for all new employees
Flexible working options – depending on the nature of role
Competitive employer pension contributions and life assurance
A full suite of optional additional benefits via salary sacrifice including buy/ sell holidays, income protection, gym discounts and more
Additional access to healthcare screening and services
But in a constantly evolving and changing world, where workforce is becoming more diverse, we know we have to do more and support more.
Hence our BeWell framework highlights five areas where we can make a difference to our people's wellbeing:
Providing people with the information and facilities that help them to take care of their physical wellbeing.
Creating an environment where everyone feels supported to take care of their mental wellbeing.
Creating an environment where everyone feels recognised, listened to and part of a team.
Providing information and support for people to understand and plan their finances.
Creating an environment where everyone has opportunities to learn new skills and develop their careers.
Some of our Wellbeing Programmes Across the Globe in 2023
A global framework for local delivery, BeWell provides a flexible, company-wide wellbeing approach to help our sites create their own wellbeing plans. BeWell is not a one-off initiative; it is an ongoing commitment to improve the wellbeing culture in Hitachi Rail. Our leaders are committed to creating this positive wellbeing culture.