Environmental Technician Abbigale Bennett transformed her passion for learning about our planet into an eco-career. As part of our Energy Management Working Group, she's driving progress to help achieve Hitachi's goal to be net zero by 2030 and is collaborating with employees across our business to find the solutions to how we can best reduce our carbon footprint.
Love what you do
As a child, I loved all things flora and fauna and that developed into a passion for learning about our planet.

Geography - was my favourite subject at school, my teachers were fantastic - fuelling my curiosity and presenting opportunities to expand my knowledge in the topics I was most interested in.

This motivated me into independent learning about sustainability and our environment.

I gained a Bachelors in Physical Geography at Newcastle University and my first job, after I graduated, was working as an Assistant Flood Risk Consultant. However, I quickly realised flooding wasn't really my thing.

Whilst trying to figure out my next move, I spent time in Japan where I taught English at an elementary school and, after nine months, I returned to learning - achieving a Masters in Clean Technology.

Whilst studying, I realised I needed some work experience. So I contacted one of the guest lecturers from the Business and Environmental Management module to see if they could help and they introduced me to a member of Hitachi Rail's Environmental team. 

I went on to complete a week of work experience and was offered a permanent role as Environmental Technician - I must be enjoying it as I've been here for two and a half years now!

Inspiring the next generation
I think it's possible for anyone to have an eco-career and its an exciting time to join the Rail industry!
My advice to anybody at the start of their career would be to think about gaining a qualification to help you excel.

But while it helps to have an academic background, building sustainability into you current role is an important step in the right direction. Question how you can start to reduce your energy consumption or waste at work - its a great way to start your journey.

Making a difference
People often ask why I'm working for a rail company if I love the environment.

At Hitachi Rail, we're taking steps to secure the future's transportation needs in a sustainable way and as part of the Energy Management Working Group, I get to work directly on achieving our goal of being net zero by 2030.
The opportunity to collaborate with different departments across the business, to gain ideas about how we can best reduce our carbon footprint, has been a brilliant experience. And I hope that I can make a difference in what I advise to our teams, to make sure that we achieve our ambitions in the most environmentally-friendly way possible.
About the author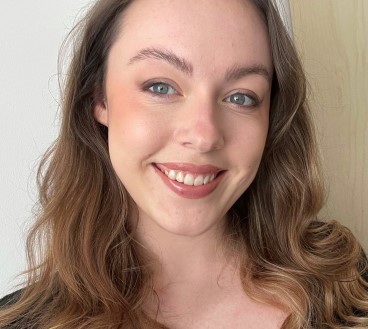 Abbigale Bennett
Environmental Technician