I am pleased to share that Hitachi will be a Principal Partner for COP26, the UN's International Climate Change Conference which will take place in Glasgow this November.
After taking on my new role of Chief Environmental Officer, this is a major moment for both me personally, and the whole Hitachi business.
In our role as Principal Partner, Hitachi will champion decarbonisation and support the UK Government, which holds the COP26 Presidency. We're actively orienting our business towards the sustainable technology of the future and want to use the power of digital innovation to help governments, cities and businesses reduce their environmental impact.
As I discussed when opening Hitachi's event with the FT Live today, 'The Road to Zero Carbon Mobility', the decarbonisation of mobility is vital in moving towards a decarbonised society - transport is responsible for 20% of the world's CO2 emissions. We've already made exciting progress in our own business operations – we are busy delivering 43 hybrid trains in Italy to replace old diesel trains, and at the end of last year we unveiled our zero-emission battery tram in Florence. In the UK, we are replacing diesel engines with batteries on one of our Intercity Express Trains to demonstrate the feasibility.
As part of this, we recognise that there will soon be a huge demand for electricity – roughly double what it is now by 2050. Through the establishment of Hitachi ABB Power Grids last year, we are at the forefront of the electrification challenge.
We also see IT and industry has having a major role to play in decarbonisation. Achieving a society that is low carbon, resource efficient and harmonised with nature will ultimately be a big challenge, but as our President and CEO Toshiaki Higashihara has said: "As a company, we have a vision to solve environmental challenges and secure a more prosperous planet for future generations." This aim is consistent with our corporate mission starting more than 110 years ago, when Hitachi was founded to contribute to society through the development of superior, original technologies and products.
Hitachi already has several long-term environmental targets, including our ambition to become carbon neutral in all our business sites (factories and offices) by fiscal 2030 and to achieve an 80% reduction in CO₂ emissions across our value chain by fiscal 2050, compared to fiscal 2010.
In February we also joined the UN's Race to Zero campaign, committing to aligning our business with the most ambitious aim of the Paris Agreement – to limit global temperature rise to 1.5°C above preindustrial levels.
Playing our role in tackling climate change and partnering with COP26 is a great source of pride for Hitachi. But we cannot do this alone. This is a challenge we must approach in collaboration with our partners and customers -  I look forward to working together as we drive towards a decarbonised society.
About the author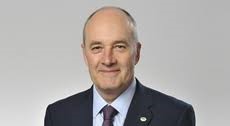 Alistair Dormer
Executive Vice President Mobility Sector