Fifty-five percent of the world's population lives in cities. According to the United Nations, by 2050, some 68%, representing 2.5 billion more urban residents, may do so.
Cities are faced with the challenge of how to accommodate growth and manage their transportation systems. There are constraints in funding, particularly in light of the extraordinary and unanticipated costs of providing safe essential services during the Covid-19 pandemic, and in dealing with infrastructure and development.
Investments in mobility infrastructure are needed to retain a great quality of life that includes ever safer, more convenient and more sustainable mass transportation solutions within and between cities.
Communities that want to future-proof themselves will prioritise sustainable mobility.
For Hitachi Rail, as a supplier and a socially responsible business, we recognize that transport is essential infrastructure linked to the core of the economy and the nation's quality of life.
Rail plays a fundamental role in meeting these challenges.
Smart cities can become even more sustainable with autonomous, on-demand and networked rail services.
Rail, is a safe, effective way to move large numbers of people quickly and reliably — and modern, intelligent rail systems are evolving to be economically sustainable and are more environmentally friendly. Intelligent rail is a key asset for end-to-end, multimodal service.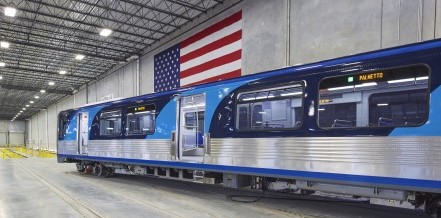 Intelligent rail systems strive to deliver environmental, economic and social value to customers, whether they are passengers, operators or the public sector.
In partnership with these three critical groups of stakeholders, the rail industry must continue to conceive, design, build, co-create, implement and otherwise offer solutions that relieve congestion and reduce pollution.
To ensure the liveability of a smart city, the industry must deliver intelligent rail solutions that run efficiently, reliably and safely — and improve the quality of life for everyone.
Modern rail systems are much more than just well built, safe trains — they are intelligent, fast-moving ecosystems. Intelligent rail delivers end-to-end, multimodal service that solves mobility problems while making the best use of available funds.
For today's transit operators, the mobility-as-a-service model of public-private partnerships leverages limited budgets in ways that improve the operation and maintenance of transport systems.
Rather than having to make large, upfront expenditures, in the public-private partnership model, cities partner with companies like Hitachi to build, operate and maintain these intelligent rail systems.
Not only does this approach change the funding model for key projects, it also means that private companies have a long-term, stake and investment in the outcome.
The better the system performs, the more passengers will want to use it, which results in continuing revenue for the operators.

An example of this model in practice is in Ontario, Canada, where Hitachi is a member of a consortium that is implementing such a project. The consortium is designing, building, financing, operating and maintaining the Hurontario LRT, a light-rail system in the greater Toronto area. The system, due to open in 2024, will better connect passengers to other modes of transport in a cost-effective manner.
Similarly, Hitachi is building a new driverless metro in Honolulu in Hawaii. Designed as the heart of the island of Oahu's multimodal transport system, HART will be America's longest automated, driverless, urban light metro system.
By 2030, it is expected to handle more than 120,000 passenger trips each day while reducing significant use of motor vehicles.
Hitachi brings decades of expertise and experience to enable such intelligent, modern rail systems — not only in railway signalling and systems technology but also in information technology, electronics, software development and in IoT technology.
To find out more about how we are working globally and Powering Good, read our full article in partnership with Hitachi America here.