Cities are big carbon contributors. But they also offer great opportunities when it comes to decarbonisation. Despite only half the world's population living in cities, it is estimated that they are responsible for 75% of carbon emissions.
Cars and buses make up a significant proportion of this. Anyone who has ever tried to drive their car in London, San Francisco, or Rome, will know that congestion and pollution can make living and travelling through cities full of cars very unpleasant - and slow! If we want to decarbonise quickly, we already have an answer: Rail emits 5-10 times less CO2 per passenger km than car and up 20 times less than planes. Yet in many parts of the world, cars and and planes often still take preference over public transport, which is driving up both carbon emissions and lowering quality of life for citizens.
To address this, I believe that we don't just need to invest in more public transport, we need to provide better transport - from the passenger's perspective. We need to get away from polluting cars and move towards lower carbon forms of transport, like rail, bus, electric vehicles, and bikes. And we have to join those journeys up to make them more competitive with more polluting forms of transport.
That's where 'Mobility as a Service' comes in.
How does Hitachi Rail define Mobility as a Service?
There are plenty of definitions out there, but at its core for me is that we can deliver better passenger experience, as part of a more efficient public transport system.
It's about putting the passenger first.
The 'MaaS' model is delivered by connecting all aspects of the mobility 'experience' through digital platforms. This goes beyond rail, but includes other forms of transport such as buses, electric vehicles and more.
There's a strong digital component: from the apps passengers use to plan their journeys, to the ticketing and security systems at the station, to the way that services are scheduled and adapt to demand, to the way the infrastructure itself is managed and maintained.
For example, our autonomous metro in Copenhagen has the ability to adapt timetabling to actual passenger demand. If there are no passengers, then the train doesn't have to run. This approach can keep operational and maintenance costs low, but also means that peak demand can be better supported. Everyone wins.
With Hitachi Rail's expertise in offering turnkey Signalling, Automation, Rolling Stock and Operation, Service and Maintenance solutions, we are developing MaaS solutions that not only benefit operators, but also passengers.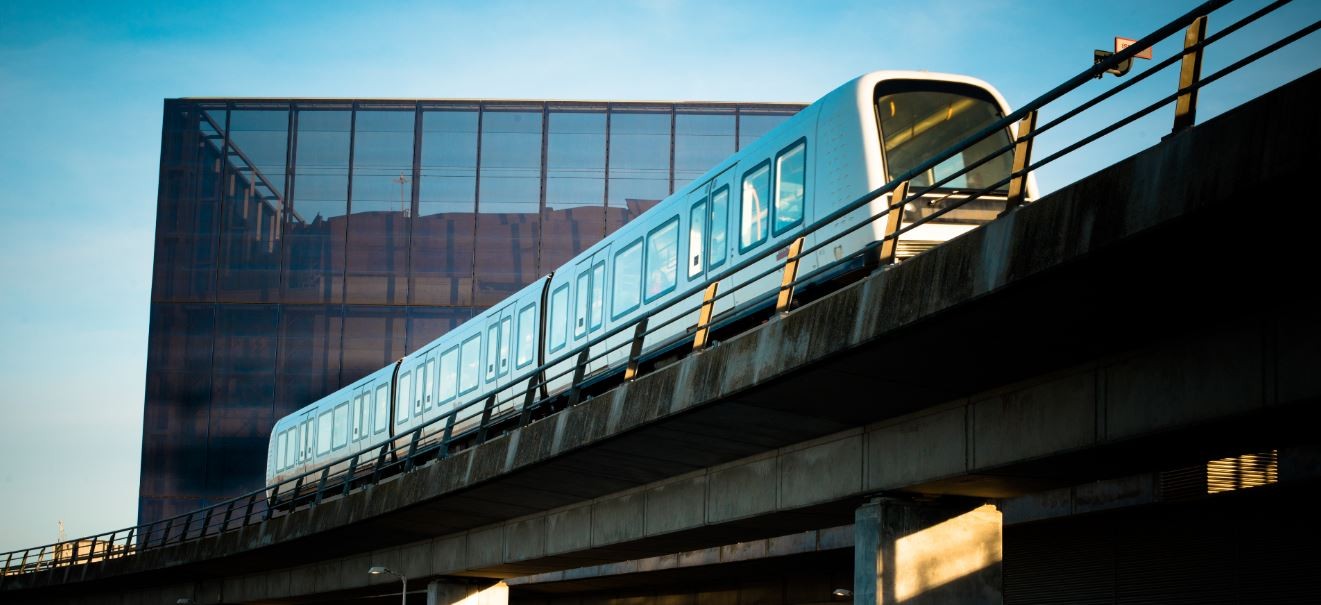 Becoming a climate change innovator
How can this help decarbonise cities?
Hitachi's Mobility Accelerator team, in partnership with Hitachi Rail, are investing in pilots such as London's Optimise Prime programme, with Uber and Royal Mail.
The system helps to monitor and optimize charging and maintenance cycles for large fleets of electric vehicles, helping to make the switch to an electric fleet as cost-effective as possible.
At Hitachi Rail, we recently announced that we are piloting a new bus congestion / passenger flow monitoring system in the Italian city of Genoa with bus operator AMT.
Covering 11 buses and 49 stops, the system monitors congestion and passenger flows on the route – helping the city to improve the passenger experience and offering an instrument to the operator to improve their timetable management, increasing the use of public transport, optimizing costs and services for passengers.
With our Intelligent Mobility solutions, we have much wider experience in the entire rail value chain - from people flow management, to smarter ticketing solutions and beyond.
Hitachi on the Race to Net Zero
Later this year, Hitachi, Ltd. is proud to be a Principle Partner to COP26, where we have a chance to articulate and accelerate our own decarbonisation commitments on the world stage.
Hitachi has long-term environmental targets, including striving to achieve carbon neutrality at all its business sites by 2030 and an 100% reduction in CO₂ emissions across the company's value chain by 2050.
Whilst you can read more about Hitachi group's broader climate vision and commitments here, at Hitachi Rail we see three areas where we can contribute to the decarbonisation of transport. It's a simple plan:
Drive a modal shift away from cars and planes;

Accelerate the decarbonisation of rail with batteries;

Decarbonise our own industrial footprint in line with UN's Science Based Targets.
Learn more on how we're planning to become a climate change innovator here.