How JR Kyushu's 'DENCHA' became the world's-first battery train for an AC network
Customer: JR Kyushu
Project date: 2016
Solution: Dual Energy Charge train (DENCHA)
Download the technical fact sheet
The BEC Series 819, JR Kyushu's DENCHA (Dual Energy Charge train) started running in October 2016 and is world's first AC electrified, overhead power storage electric train. Between 2016 and 2019 the entire fleet of 18 diesel trains were replaced with battery – electric units. The range of the trains on battery power can be extended over time through the introduction of new battery technologies.
In 2021, JR Kyushu and Hitachi Rail celebrated 5 years since the first run, noting that the fleet had reduced CO2 emissions by 2,700,000 kg since its introduction in 2016, which reaffirmed our commitment to alternative fuel transport offer for passengers and operators across the world.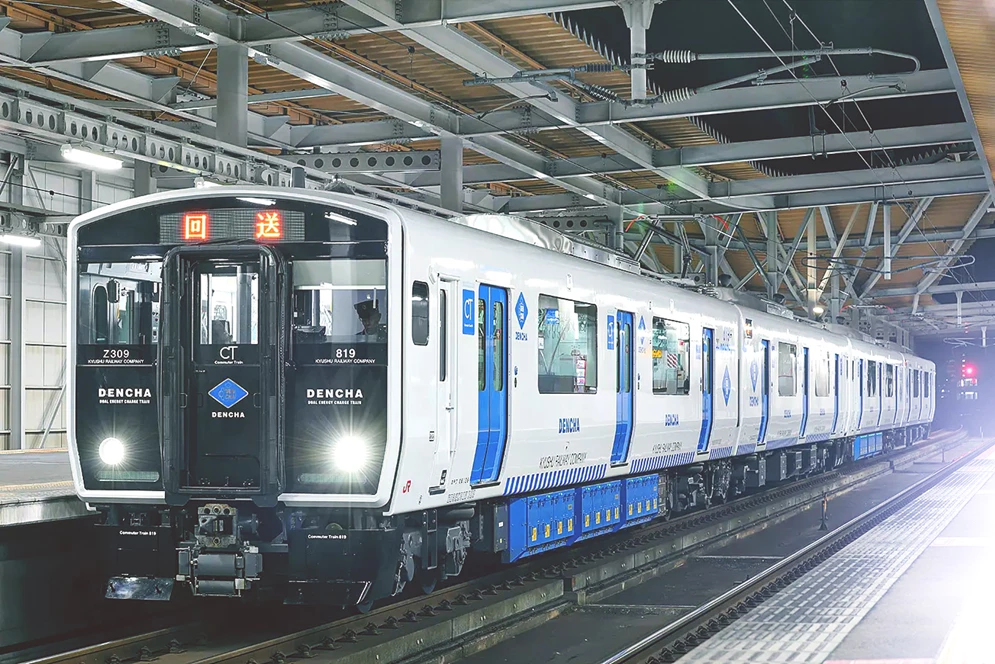 JR Kyushu's DENCHA (Dual Energy Charge train) © Photo provided by JR Kyushu
How does the DENCHA work?
In the AC electrified section, the train runs on AC power from overhead power lines through a pantograph, just like a conventional train. While running and stopping, AC power from overhead power lines is converted to charge the battery.
In non-electrified sections, the pantograph is lowered to rely on battery power only. When braking, the regenerative energy is charged to the battery.
As the DENCHA does not have an engine like a conventional diesel car, it eliminates engine noise, vibration, and exhaust emissions, and reduces maintenance costs by effectively using energy, thus greatly reducing its environmental impact.
Seamless, Sustainable Journeys
The success of the DENCHA fleet, operated by JR Kyushu, has been the starting point for Hitachi Rail's development of alternative fuel transport solutions worldwide.
World's first AC electrified, overhead power storage electric train

18 diesel trains replaced by battery

2,700,000 kg less CO2 since 2016