How Hitachi Rail's battery-powered tram is transforming the historic streets of Florence
Customer: GEST
Project date: 2021
Solution: Hitachi Rail SIRIO battery tram


Download the technical fact sheet
The Challenge
Florence's tramway system was originally built in the 1950s and was restored in the years leading up to 2010. Over time, the Florence Municipality commissioned the expansion of the line to reach a greater radius, transforming connectivity within the city.
However, traditional tram lines require electrified infrastructure – usually overhead wires supported by poles or pylons – that are expensive to install and can be visually unattractive on beautiful historic streets, like Florence.
With around 2 million people visiting Florence each year, carbon-neutral transport is essential. Transport operator GEST, working with Florence Municipality, needed a solution to upgrade their outdated tramway infrastructure, while protecting its city's iconic Renaissance style, and creating a cleaner, quieter environment for its people and visitors.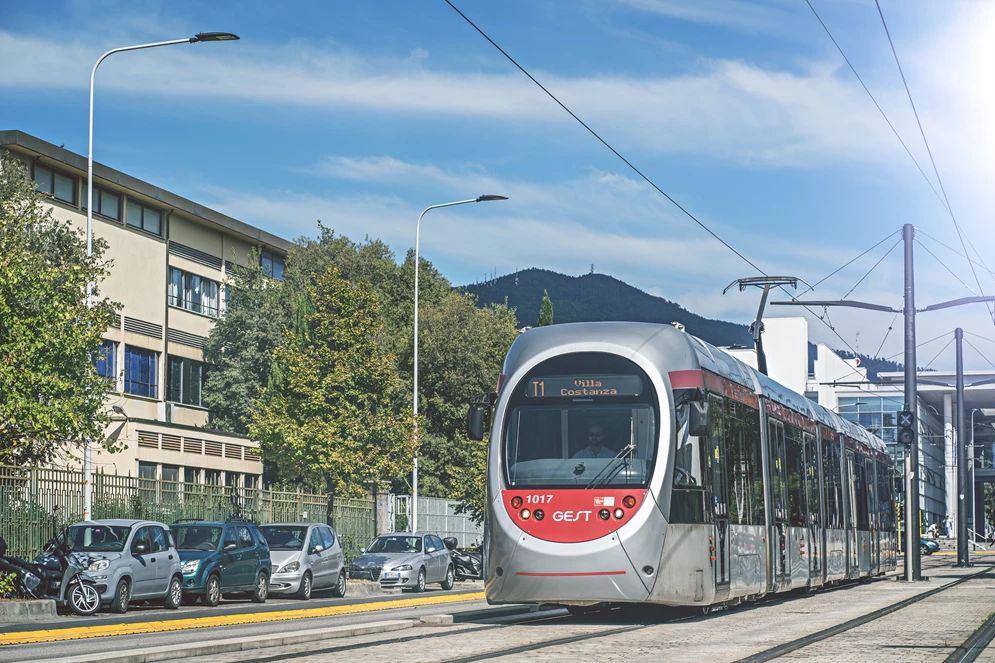 Hitachi Rail SIRIO battery tram
The Solution
In 2021, Hitachi Rail successfully tested its first battery-powered tram in Florence, ready to be installed to new and existing lines for the Florence network.
Battery installation has given the tram system catenary-free status, as the trams can run without overhead lines. As a result, the tramway is less invasive within the city's historic architecture and the technology has also saved millions of euros on installing wiring.
With the new tram up and running, sustainable battery technology permits zero emission travel around the busy and condensed city of Florence. Noise reduction technology is used onboard to lessen the tram's impact in the city, with noise-levels kept to a minimum.
Equally important is the modernisation of the network - prioritising safety, reliability and passenger comfort. The new Sirio trams can travel up to 70km/h across the city and each tram is equipped with obstacle detection sensors to check the tracks and ensure the tram runs safely. The large window surfaces provide increased visibility for an improved passenger experience and integration with the urban environment.
The latest generation lithium-ion batteries give the best class performances on-board. The tram uses a DC/DC converter to properly control battery charging, for safety and efficiency. This innovation allows power to be returned to the batteries when the train brakes, reducing the overall amount of energy consumed.
Play Video
The First Battery-Tram Trial in Florence
Seamless, Sustainable Journeys
Florence is the first city to benefit from a Hitachi Rail battery-powered tram and has successful led the way for the same technology to be offered in other Italian cities and around the world.
Hitachi Rail's first battery-powered train

Runs without overhead infrastructure within Florence's city centre

Up to 70km/h, catenary free operation