I was pleased to see the announcement by the UK government to deliver a net zero railway by 2050. To get there, we need to accelerate the work we're doing right now.
Achieving net zero is a global goal. That's why our parent company, Hitachi Ltd, was also a Principle Partner to COP26.
This 'Olympics of climate conferences' was the largest ever event to take place in Scotland and was an important moment in time for the Hitachi Rail team. COP26 gave us the opportunity to articulate and accelerate our own decarbonisation commitments on the world stage.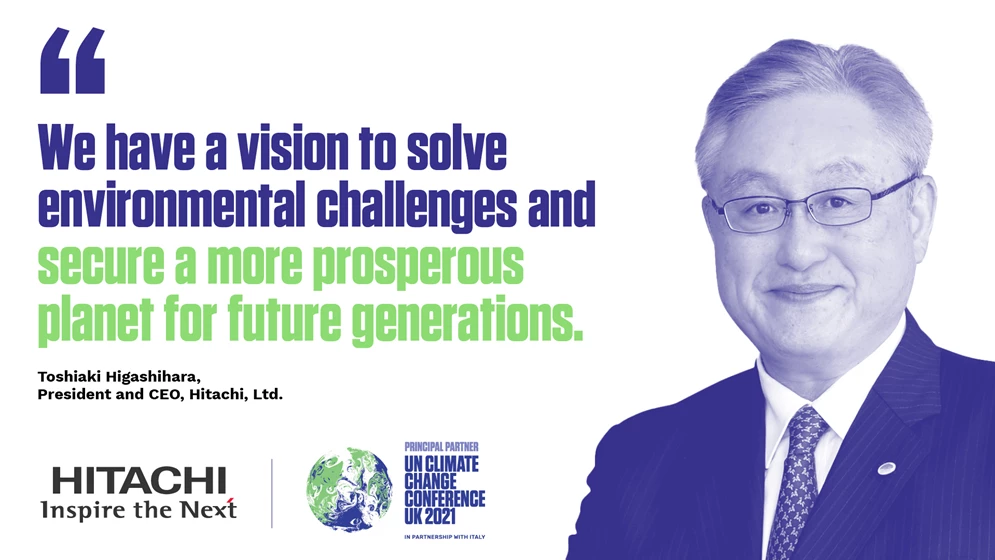 Here are the three ways Hitachi Rail is becoming a climate change innovator - to help cities, governments and customers cut carbon in the mobility sector:
Drive a modal shift by making rail an attractive alternative and enhancing with Mobility as a Service;

Accelerate the decarbonisation of rail by creating new electrified railways or powering trains with batteries;

Decarbonise our own industrial footprint in line with UN's Science Based Targets.
1. Drive Modal Shift in Cities with 'Mobility as a Service'
Rail emits 5-10 times less CO₂ per passenger km than a car and up 20 times less than planes.
From a policy perspective, this is the low hanging fruit for net zero.
But to drive the modal shift away from planes and cars, we can't just provide lower carbon forms of travel, we need to provide better forms of low-carbon travel.
That's where Mobility as a Service comes in.
Consumers are increasingly stating a preference for greener sustainable solutions. But being green isn't enough, otherwise everyone would be on a train.
Another key to unlocking modal shift is making every journey as smooth and easy as possible for passengers, and as cost effective as possible for operators.

We are already pioneering digital systems that augment passenger flow applications, smart ticketing, security and predictive intelligent asset management systems to make this even more connected to the wider railway.
For example, we have run a pilot project for a new bus congestion / passenger flow monitoring system in the Italian city of Genoa with bus operator AMT.
It aims to give passengers information about most efficient mode of public transport, while allowing them to avoid buses that are crowded.
This should make journeys shorter, as well as more comfortable, thereby encouraging people out of their cars on to more sustainable modes of transport.
2. Accelerate the Decarbonisation of Rail - Batteries First
To get to net zero on the railways, we have to deal with diesel.
The first step is electrification - a process well underway, but far from complete.
But with the cost and implementation of some electrification schemes either too expensive or too slow, new ways of powering trains are required. These can become enablers for future electrification by assisting with the generation of the business case.
Batteries and hydrogen can help close the gap. But which is better?

Whilst hydrogen will eventually have a role to play, we think battery technologies will have the most significant impact, fastest and at the lowest cost. What's more - battery technology is retrofittable to existing trains.
With five years' experience operating battery trains in Japan, to our UK partnership with Hyperdrive and Eversholt, to our Florence battery trams and the introduction of new Blues tri-mode trains in Italy we are pioneering in an area we believe will become more and more critical.
3. Decarbonise ourselves - Using the UN's Science Based Targets
We're taking this seriously. Earlier this year, the Hitachi Group announced that it is committed to achieving carbon neutrality at all its business sites by 2030 and an 100% reduction in CO₂ emissions across the company's value chain by 2050.
On our own operations at Hitachi Rail, we are already making progress, guided by the UN's Sustainable Development Goals.
How are we doing so far? I was pleased to report earlier this year that we achieved just over 14% reduction in green house gas emissions per hour worked from factories (excl Japan) in the period 2018 to 2020.
You can read the details in our latest Sustainability Report.
Becoming a climate change innovator
Becoming a climate change innovator isn't easy, but I'm proud of the progress our teams at Hitachi Rail are making across these three key areas.
We realise that we have a lot more to do on the road to net zero. But it's the road we choose to take after that will matter most. I'm looking forward to sharing that journey with you.