Heather Gray is a Project Manager at Hitachi Rail. Ahead of the Women in Rail Awards, Heather tells us about her burgeoning career in rail and how she is passionate about helping lead Hitachi Rail's work to shape a greener future for the industry.
I began working at Hitachi Rail in 2020 as a Graduate Project Manager, having started my career in consulting and project management in the hospitality industry. Joining the rail industry was a bit of a career change, but I've never looked back.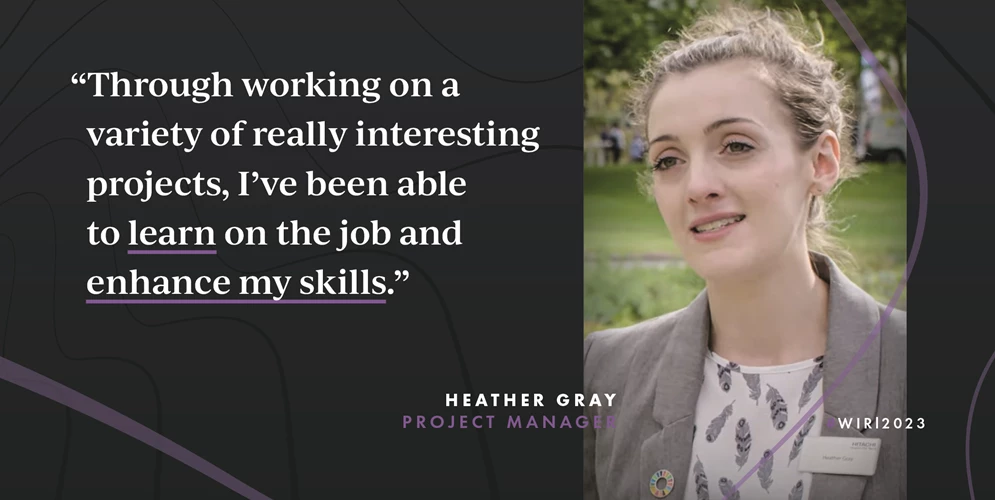 Developing in the rail industry
Since joining Hitachi Rail almost three years ago, I've been very thankful for the support I've been given to develop and advance my career within the rail industry. Through working on a variety of really interesting projects, I've been able to learn on the job and enhance my skills. This led to a permanent role as a Project Manager at Hitachi Rail once I finished my graduate program.
During my time with Hitachi Rail I've been able to engage with others in the sector and pursue my passions alongside like-minded individuals working in rail.
For example, I was pleased to be the National Treasurer of Young Rail Professionals 2022/23. Through Young Rail Professionals, I've had opportunities to network with my peers, engage with the storied heritage of the UK rail industry, and encourage students to consider careers in the sector – helping to develop the pipeline of talent.
Hitachi Rail has also supported me to develop in other ways by giving me the space to pursue another of my passions, raising money for charitable causes. Through the company, I was able to support my colleagues taking part in the three peaks challenge, raising over £1000 for Railway Children, an international children's charity working with street children in India, East Africa and the UK.
Driving forward sustainability
One of the highlights of my career so far was the launch of the Hitachi Voice of Youth Programme in January 2022. The programme was established off the back of COP26, and gives young people within the Hitachi Group the opportunity to speak with the senior leadership team about sustainability. The Voice of Youth Programme led to Hitachi's first sustainability manifesto, drawn from a wide range of employee's voices within the Group.
My work with the Voice of Youth programme reflects Hitachi Rail's focus on sustainability and their ambition to ensure the next generation of rolling stock works towards decarbonisation and net zero targets.
Over the last three years I've also been able to support the Hitachi Ltd. Executive Sustainability Committee, which meets regularly to discuss and reach decisions on Hitachi's sustainability focus, linked to the United Nations' Sustainable Development Goals (SDGs).
I'm also actively working with the sales team at Hitachi Rail to implement our sustainability criteria to their activity and have been collaborating with Hitachi Energy on the development of the Hitachi Group Carbon Emissions Tool. We're currently adapting this tool for Hitachi Rail, and hoping to move into a trial phase of standardising this across Hitachi Rail divisions this year.
Hitachi's focus on sustainability is really inspiring and very important to the younger generation of employees. It's great to see our ambitions matched in the development of exciting, cutting-edge technologies like battery trains, and I'm excited to be a part of the company's work 'building a better future' and shaping a greener future for the rail industry.
Play Video
A career highlight