We are supporting the planning and delivery of railway infrastructure, enabling you to deliver safe, efficient, and sustainable operations.
Our Intelligent Asset Management solution includes all systems, procedures, and tools to maximise asset availability for a minimum whole-life cost and risk.
With its scalable, flexible, and agile nature, the Hitachi Rail intelligent asset management solution is built on an Internet of Things platform (IoT). It is designed to connect and integrate with various railway and non-railway systems, providing a clear and concise overview of any railway operation as required.
The data collected by the intelligent asset management solution, combined with our analytic capabilities, provides the backbone for this service development for passengers. Such services leverage the deep knowledge of an entire railway infrastructure viewpoint and will increase train and line availability.
Some of the benefits of our data-driven asset management:
Increase system reliability and availability

Improved Maintenance efficiency improvement

Optimised working procedures - reducing system downtime

Enables the railway industry to deliver new service development and IoT solutions that will offer overall improvement in passenger experience

Perpetuum ONBOARD®
Optimising railway operations, offering improved efficiency, safety, and better quality of service.
Perpetuum Onboard uses wireless condition sensors combined with vibration engineering expertise and rich analytics to provide real-time information on rolling stock and track assets.
With over 10 years of experience in rolling stock condition monitoring, with the only proven solution for wheelset vibration management, we have seen that real time, continuous information is necessary to implement an effective wheelset condition management system. This is key to enabling optimised railway operations, including track, maintenance and rolling stock assets.
Our technology is easy and quick to install, requires no external wiring or maintenance, and has no interactions with existing on-train systems, meaning it is incredibly safe and reliable.
The technology is on-board (not track-side), ensuring better data quality, reliability, and the ability to monitor track conditions, and can act as a decision support tool for "Rough Ride" calls, reducing the impact on passengers of difficult to treat vehicle-track interactions.
Continuous asset monitoring provides the operator with valuable information on the quality of new or recently refurbished assets. For example, the tool can demonstrate which overhauled gearboxes are sub-normal before they fail in service.
Perpetuum ONBOARD® in action
Improving Reliability and Reducing Maintenance for ScotRail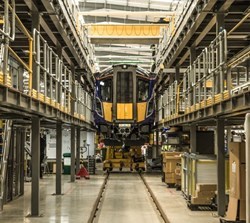 We retrofitted Hitachi's battery-free, wireless Remote Condition Monitoring system across the Class 334 fleet, to increase expected lifespan of wheel bearings by at least 25 per cent.
Transforming Southeastern's Maintenance Schedule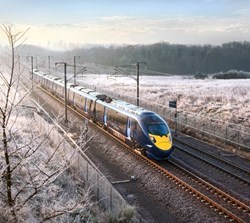 We retrofitted Hitachi's battery-free, wireless Remote Condition Monitoring system on the Electrostar fleet, to improve the reliability of train service for over 64,000 passenger journeys every week day.
Swedish Train Operator SJ Invests in RCM to Meet Challenges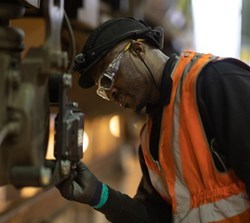 We were awarded a 10 year contract with Swedish state-owned train operator SJ to monitor its fleet of high speed X2000's, to Increase the availability of the fleet.