360Motion brings together data from multiple transportation services into a single unified platform.
This represents our 360º vision for smarter mobility, integrating and elaborating the data coming from solutions across three key areas: smart ticketing, mobility management, and electrified mobility solutions. At the core of this suite is a platform that provides real-time transportation network data and insight – 360Motion.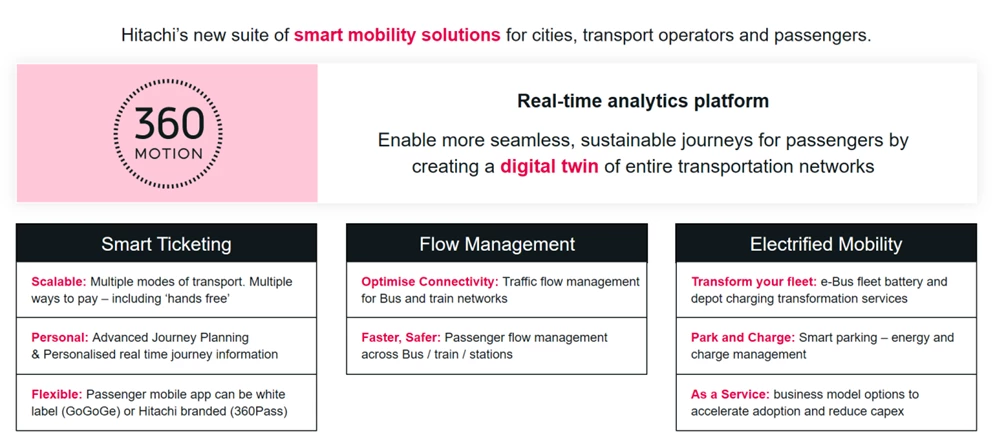 360Motion is a hardware-agnostic platform, able to scale existing mobility solutions by collecting and ingesting data from any kind of source and allowing operators and passengers to understand the optimal way to move through urban landscapes. For example, 360Motion can connect to established e-ticketing platforms, rail and bus network and service management systems, and charging points, and being integrated by design into Hitachi's mobility data lake, it delivers its full potential when interfaced with other modules of Hitachi suite creating a 'digital twin' of the entire transportation network.
360Motion leverages advanced Artificial Intelligence and Machine Learning algorithms to support city planners, bus operators, and rail operators in optimizing public transport networks in real-time, enabling scenario planning and predicting and managing future disruptions. It can be easily integrated with Passenger Information Systems and Mobile Apps, being a valuable tool to support passengers in planning their journeys according to the comfort level they desire, enhancing their experience of the public transport and attracting new users.
360Motion Integrates data from our digital solutions:
Smart Ticketing: Our solutions enable passengers to use their mobiles for travel and payment. One of our current trials uses Bluetooth technology to enable 'hands-free' travel' with no ticket purchases required. Combining this data with real traffic demand is possible to propose best fare rates based on a specific period of time.

Flow Management: Our offering for operators helps them better control the movement of people, buses, and trains across the network allowing to optimize their traffic.

Operation Management: As more electric buses and vehicles dominate our roads, we have a growing offering that can optimise the Operation of Bus transport, having a powerful tool to operate not only E-Buses but also hybrid fleets.
Furthermore, combined with our sustainable mobility options, Hitachi rail can help passengers, operators, and cities to accelerate their transition to a more environmentally friendly future.