Lumada is Hitachi's portfolio of advanced digital solutions, services, and technologies.
Lumada turns data into insights to drive digital innovation and customer value.

As part of the Hitachi Group, Hitachi Rail has access to the Lumada platform of digital capabilities, including the digital expertise of GlobalLogic and teams in adjacent industries such as Hitachi Energy and Hitachi ZeroCarbon.
Hitachi Rail complements this digital expertise by bringing a hundred-year history in building and operating public transport networks. Hitachi Rail is uniquely positioned to act as a partner, systems integrator, OEM, and maintainer to any city or operator looking to better connect, scale, analyse and optimise their transport network.
Furthermore, with 'as a service' business models available, Hitachi Rail can help passengers, operators, and cities to accelerate their transition to more seamless, sustainable mobility.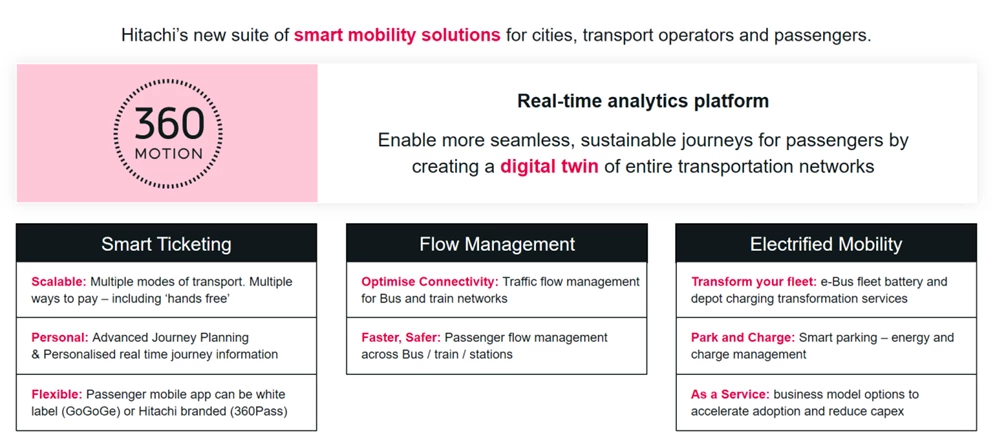 Lumada Intelligent Mobility Management from Hitachi Rail
This represents our 360º vision for smarter mobility, incorporating solutions across three key areas: smart ticketing, mobility management, and electrified mobility solutions. At the core of this suite is a platform that provides real-time network visibility with data insights – 360Motion
360Motion is a platform that brings data from the wider 360 suite into one place to create a 'digital twin' of an entire transportation network. Allowing operators and passengers to understand the optimal way to move through our urban landscapes. It can connect and scale existing mobility solutions from any data source – for example, established e-ticketing platforms, rail and bus networks, and charging points. Or it can scale with Hitachi's suite of solutions:
Smart Ticketing: Our solutions enable passengers to use their mobiles for travel and payment. One of our current trials uses Bluetooth technology to enable 'hands-free' travel' with no ticket purchases required.

Traffic management optimisation: Our offering for operators helps them better control the movement of people, buses, and trains across the network.

Electrified Mobility: As more electric buses and vehicles dominate our roads, we have a growing offering that can optimise the use of energy across a new generation of battery-powered rail, bus vehicles, and smart charging parking lots for commuter EVs.
Furthermore, combined with our sustainable mobility options, Hitachi rail can help passengers, operators, and cities to accelerate their transition to a more environmentally friendly future.