Understand transport, match passenger needs and exploit asset capacity
Understanding how people move within a transportation system is key to offer a service that fits passengers' needs and exploits in full the capacity of the operators' fleets and assets.
360Flow aggregates information about occupancy from all the means within the public transport network, allowing operators to have one observation point that they can use to keep under control in real-time the status of crowdedness and usage of the network, timely reacting to unplanned events such as disruptions or overcrowding caused by special events. 360Flow is a platform independent from the technology, this means it has the flexibility to integrate data coming from any kind of sensor or data source; historical and real-time passengers' flows data is collected, aggregated, and presented on control-room dashboards to show a clear picture of the actual transportation demand and to support decision making.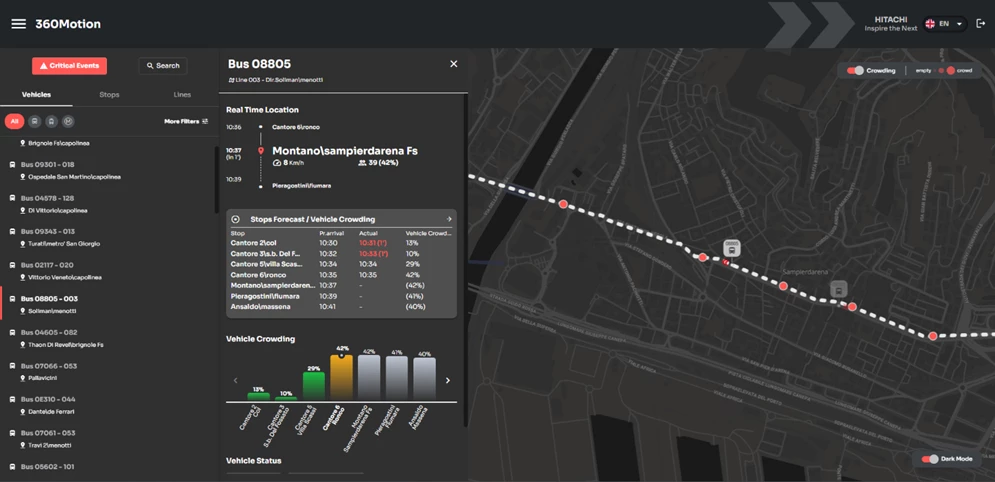 Optimising Vehicle Flows
Monitors traffic flow through bus and rail transportation networks, helping identify bottlenecks and enabling operators to optimise their network service.

In real-time, this can help operators reroute traffic in case of an issue on one part of the network, and also to predict where more vehicles may need to be deployed to meet demand.

Supports long-term scenario and resource planning
Passenger Flows
Uses cameras and AI to count the number of passengers moving through specific areas in a transport network, such as bus stops and train stations.

Passenger flow technology is being used to help passengers understand how crowded a mode of transport is.

Helps operators better manage passages' flows in real-time and predict future issues based on historical insights.
The data collected from the service can then analysed within the 360Motion platform to optimise traffic via real-time planning, timetabling, crew management, and other value-added services. We then use this data to produce a range of predictive analysis, including optimum scheduling, arrival times, and passenger demand.
The Benefits:
Optimised Connectivity: Advanced traffic and vehicle flow management for bus and train networks.

Faster, Safer People Flows: People flow management across bus/train/stations.

360° Insights: Provides real-time data to passengers and operators regarding service availability, crowding levels, and predicted demand.
See how we are working with AMT on their congestion monitoring system project.