Providing a more convenient experience for passengers across multiple modes of transport.
We are always finding ways to improve passenger experience and enhance efficiency.
Our solutions enable passengers to use their mobiles for travel planning and payment across multiple modes of transport – including new 'hands-free' ticketing technology.
Hitachi's 360Pass mobile app for passengers serves multiple modes of transport, giving passengers numerous ways to plan and pay for their route.
Multiple modes of transport: Trains, buses, e-scooters, car share schemes, parking – even funiculars!

Multiple ways to pay: Traditional ticketing, mobile 'tap in tap out', QR codes, and 'Hands-free' Bluetooth ticketing technology – a world first.

Interoperable with 360Motion: Hitachi's real-time data analytics platform creates a 'digital twin' of an entire transportation network.
Read more about Hitachi's digital signalling and systems offerings to improve aspects of travel such as flow and security.
Easy: A single app to plan and access any multi-modal, public transport journey & e-sharing transport across the city.

Effortless: Hands-free ticketing - powered by Bluetooth – means boarding public transport while never having to take your phone out of your pocket.

Value for Money: The best possible fare is applied automatically.

Stress-Free: Live information about service delays or congestion helps with peace of mind and safety.
Flexible: The passenger mobile app can be white label or Hitachi branded (360Pass), available on iOS and Android

Enhanced Data: Detailing complete multi-modal journeys, supporting the optimisation of timetables

Removing congestion: The technology can potentially remove bottlenecks around ticket barriers by using the technology at the entrance to platforms or vehicles.

Integrates fully with 360Motion.
Discover how 'hands-free ticketing' works
The technology uses a network of sensor nodes installed at strategic points across a transport network, including trains, buses, and parking lots at stops and stations. These connect with the user's 360Pass app via Bluetooth.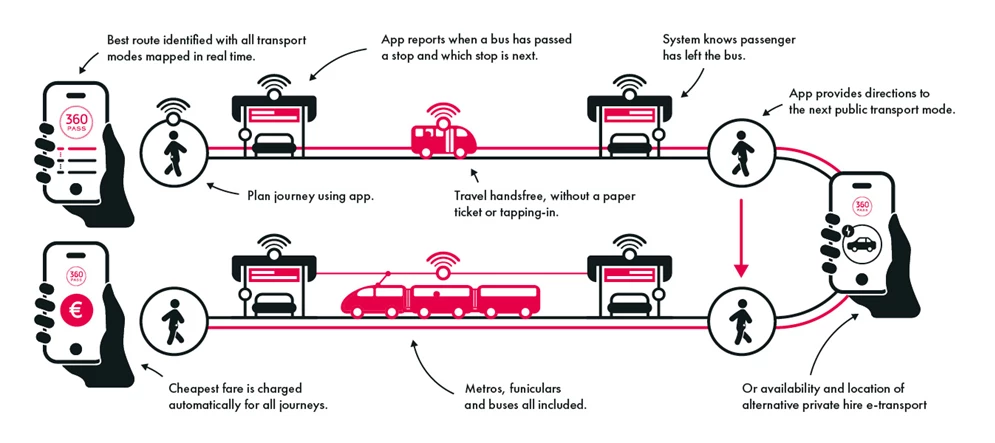 Once a passenger begins a journey, the app connects with each sensor it passes on the route, recording the entire multi-modal journey. The app then uses the recorded data to calculate the best-priced fare for the passenger at the end of the day and sends a receipt for the final fare at 3am the next day.
The app also provides more personalised information to the passenger based on the context of their journey.
360Pass is the app that is now live in Trento, Italy. It simplifies your travels, saving time and money.
With 360Pass in Trento you can:
Park in the blue lines of the municipalities of the Autonomous Province of Trento
Organise your trip with multimodal solutions and consult Bus and Trains timetables.
It is now available to download on the App Store and Google Play.